Uncut Rough Diamond Crystal No. 65742:
Diamond (3.31 carats four polished slices from a single crystal with sector-zoned inclusions ) for sale from Zimbabwe.

---
This uncut rough crystal of Diamond (3.31 carats four polished slices from a single crystal with sector-zoned inclusions ) from Zimbabwe is available for sale from John Betts - Fine Minerals, mineral dealer located in New York City, New York.Follow on Facebook

To purchase uncut rough diamond crystals from this site go to:

Detailed information on mineral for sale No. 65742:

Mineral Species: Diamond (3.31 carats four polished slices from a single crystal with sector-zoned inclusions ).
Location of mineral deposit: Zimbabwe.
Description: Four slices sawn from a single diamond crystal that were polished on both sides in a shallow rose-cut to highlight the dark internal crystal sector zoning. The diamond sector zoning is caused by graphite-coated disk-shaped defects. No damage. See article: Optically-zoned (Star) Diamonds from Zimbabwe in Rocks and Minerals, March-April 2014, pages 173-178.
Overall size of mineral specimen: 8 mm across each.
Price: $2995 net (plus shipping).

Click here to see the special requirements for international diamond orders.
These zoned diamond slices were featured Rocks and Minerals, March-April 2014 issue.
Purchasers will receive the complete article in PDF format.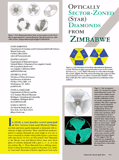 ---
---
© 29 October 2017 John Betts - Fine Minerals, New York , NY - All Rights Reserved.
a division of allminerals.com, dealer of Fine Minerals since 1989.
All diamonds sold on this web site were purchased from legitimate sources not involved in funding conflicts and in compliance with the United Nations Kimberley Process requiring all uncut rough diamonds to be sealed in tamper-proof containers at the point of origin to prevent smuggled conflict-diamonds from tainting the shipment, and a Kimberley Process Certificate is on file at the U.S. Department of Commerce. The owner, John Betts, hereby guarantees that these diamonds are conflict-free, based on written warranty of Kimberley Process.