Mineral Specimen No. 72537:
Elbaite var. Rubellite Tourmaline for sale from Cruziero Mine, Santa Maria do Suacui, Minas Gerais, Brazil.

---
This mineral specimen of Elbaite var. Rubellite Tourmaline from Cruziero Mine, Santa Maria do Suacui, Minas Gerais, Brazil is available for sale from John Betts - Fine Minerals, mineral dealer located in New York City, New York.Follow on Facebook

To purchase mineral specimens from this site go to:

Detailed information on mineral for sale No. 72537:

Mineral Species: Elbaite var. Rubellite Tourmaline.
Location of mineral deposit: Cruziero Mine, Santa Maria do Suacui, Minas Gerais, Brazil.
Description: Lustrous transparent pink rubellite tourmaline crystal, the pink gem variety of elbaite tourmaline, with striated prism faces and termination composed of second-order pyramidal faces. This crystal has a flattened shape and good pink color. Weight: 1.34 grams.
Overall size of mineral specimen: 14x8x6 mm.
Size of individual crystals: 15 mm
Price: $36 (plus shipping).
Below is a group photo of the best rubellite tourmaline crystals for comparison of size and color: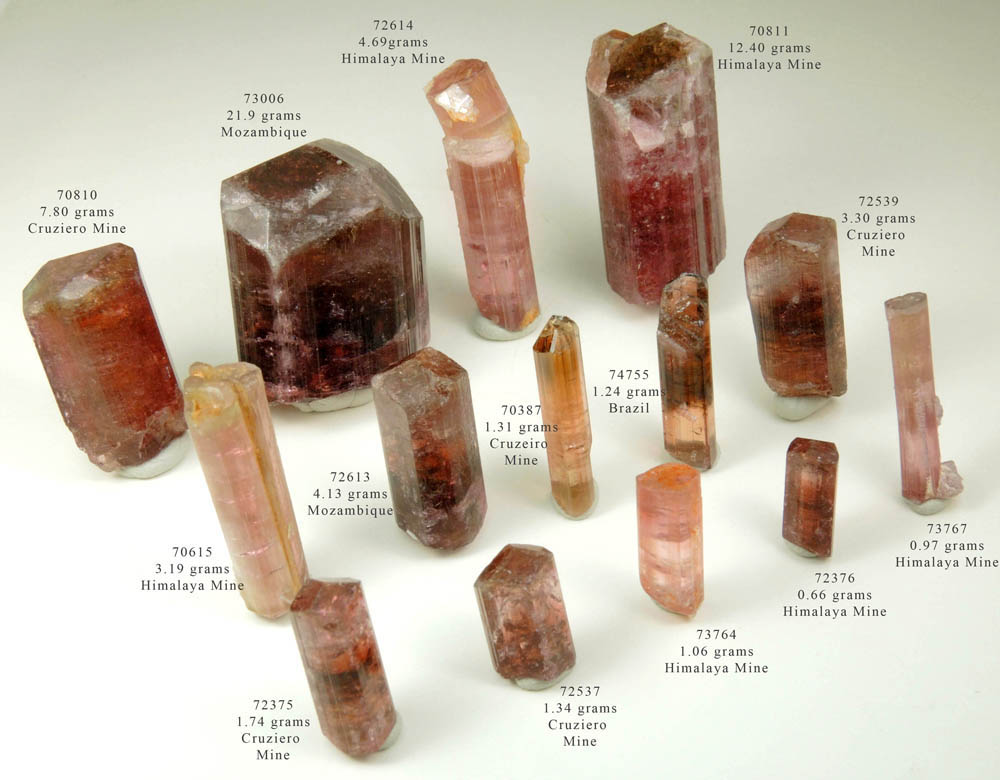 Thumbnail-sized Specimen
---
---
© 8 January 2018 John Betts - Fine Minerals, New York , NY - All Rights Reserved.
a division of allminerals.com, dealer of Fine Minerals since 1989.
The minerals illustrated on this site were purchased from collectors or wholesale suppliers for resale purposes. The owner of this site did not collect the minerals and collectors should not assume access is permitted to the property based on inclusion in this site. Please contact the property owner to obtain legal permission before entering private property.