---

Mimetite from San Pedro Corralitos, Chihuahua, Mexico.

---
This mineral page is part of the series of mineral photographs of the many minerals offered for sale on this site. To see mineral specimens available for sale like this one, click here to go to the Mineral Galleries.
Click here for details on camera and equipment used.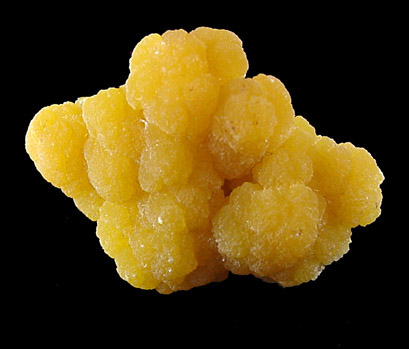 © 2000 by John H. Betts - All Rights Reserved.
Detailed information on mineral specimen No. 10060:
Minerals Species: Mimetite.
Location of mineral deposit: San Pedro Corralitos, Chihuahua, Mexico.
Description: Very clean, undamaged botryoidal formation of yellow mimetite is hemispheres to 6 mm diameter.
Overall size of mineral specimen: 3.5x2.5x2 cm.
Size of individual crystals: 4-6 mm.
SOLD
John Betts - Fine Minerals, New York, NY
Dealers of Fine Minerals and Natural Crystal Clusters since 1989.
Click here for



Minerals For Sale
Home - Galleries - Articles - Mineral Shows - Customer Comments - Purchase Info - Order Form
Email me at jhbnyc@aol.com...