Anthony's Nose, New York A Review of Three Mineral Localities
by John H. Betts, All Rights Reserved
This web page is provided as a resource to mineral collectors.
Contact the property owner before entering the property to obtain written permission to collect minerals.
John Betts does not own this property and he cannot grant permission to enter the site.

This paper describes three mineral locations in the vicinity Anthony's Nose, a prominent highland east of the Hudson River in New York State. Two of the sites are over 150 years old and have been long forgotten. Yet surprisingly minerals may still be easily collected at these sites. Unfortunately there has been much confusion about the exact localities and mineral occurrences. This paper attempts to clarify and correct much of the misinformation, and describe the present collecting opportunities.
Above - Hexagonal tabular crystal of white calcite coated with drusy quartz (13 x 20 cm. overall) from the Steve Nightingale collection. Detail view on right shows late-growth quartz druse forming drip-like formations. (Photo by Steve Nightingale)
Introduction
At the 1997 Rochester Mineralogical Symposium a fine mineral specimen of calcite coated with drusy quartz was offered for sale by Phil Scalisi. The location listed was Anthony's Nose, New York. The size and quality of the specimen was impressive, yet a specimen from the location had never been encountered by this author. When and where was this specimen found? Were many others found or was it a small, one-time discovery? Seeing that specimen, currently in the collection of Steve Nightingale of Chatham, New York, started research into Anthony's Nose as a mineral location.
In researching the location many references were found to Anthony's Nose in old mineralogical literature dating back to 1825. Minerals attributed to the Anthony's Nose area include:
Amphibole (Robinson, 1825, Whitlock, 1903; Manchester, 1931)
Apatite (Beck, 1842; Mather, 1843; Whitlock, 1903; Manchester, 1931)
Barite (Robinson, 1825)
Calcite (Robinson, 1825; Beck, 1842, 1849, 1850; Dana, 1892; Whitlock, 1903; Manchester, 1931)
Chalcopyrite (Whitlock, 1903; Manchester, 1931)
Epidote (Manchester, 1931)
Garnet (Manchester, 1931)
Hematite (Robinson, 1825)
Hornblende (Robinson, 1825)
Limonite (Manchester, 1931)
Magnetite (Robinson, 1825, Beck, 1842; Mather, 1843; Whitlock, 1903; Manchester, 1931)
Marcasite (Robinson, 1825)
Melanterite (Mather, 1843)
Molybdenite (Manchester, 1931)
Natrolite (Manchester, 1931)
Oligoclase (Manchester, 1931)
Pyrite (Robinson, 1825; Mather, 1843; Manchester, 1931)
Pyroxene (Whitlock, 1903; Manchester, 1931)
Pyrrhotite (Robinson, 1825; Beck, 1842; Mather, 1843; Whitlock, 1903; Manchester, 1931)
Quartz (Manchester, 1931)
Stilbite (Manchester, 1931)
It is curious that Whitlock in Calcites of New York only mentions the calcite occurrence on Anthony's Nose in his introduction referencing other authors research. He did not choose to include the calcites from Anthony's Nose in his study, even though they are exceptional mineral specimens.
Mineral Localities on Anthony's Nose
During the research it became apparent that there are at least three separate locations in the Anthony's Nose region. Along the Hudson River, where the railroad tracks cut through the hillside, is where the calcite with drusy quartz was found. Northeast of Anthony's Nose summit on a small ridge north of Mine Hill is the Philips Mine known for pyrite, pyrrhotite and fine apatite crystals. Finally, there is a road cut east of the Bear Mountain Bridge on Route 6 that has produced a wide variety of minerals notably epidote and assorted zeolites.
Above - False color aerial photograph of Anthony's Nose region taken in 1994 on the left, and USGS topographic map of the West Point Quadrangle, photo revised in 1981, of the same area on the right and the three mineral localities described in this paper.
Unfortunately most authors seem to have had little first hand knowledge of mineral occurrences and often grouped minerals from these separate localities under one general heading of "Anthony's Nose, NY", or they attributed minerals from one location in the region to another. Most notable among these mistaken references is Minerals of New York (Jensen, 1978) that attributes the calcite with drusy quartz to the Philips Mine. This is incorrect.
Location
Anthony's Nose is a large highland of approximately four square miles on the eastern shore of the Hudson River, 3.5 miles northwest of Peekskill, New York and about 33 miles north of the George Washington Bridge, Manhattan Island, New York. Anthony's Nose is directly east of the Bear Mountain Bridge, connecting Peekskill to Bear Mountain State Park via Route 6.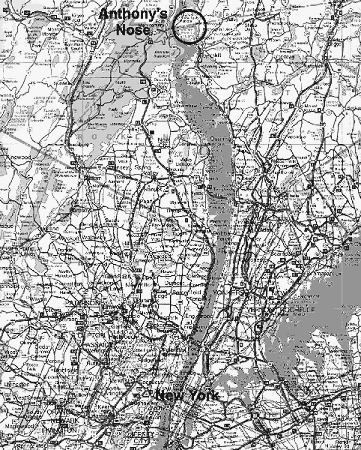 At right - General map of the location of Anthony's Nose, 40 miles north of New York City. (Adapted from Hagstrom Map Co., 1991)
In the past, Anthony's Nose was an area of geologic interest to mineral collectors. Nearby could be found no fewer than sixty mines. Two miles to the west were the magnetite iron mines in Bear Mountain State Park and Harriman State Park. Over 40 mines in this area, dating back to the revolutionary war, worked the magnetite deposits of the Reading Prong that extends north-northeast through New Jersey and southern New York. The last of these mines, The Forest of Dean Mine, operated from 1756 to at least through 1928 is widely represented in old mineral collections (Newland and Hartnagel, 1928).
Five miles southeast of Anthony's Nose can be found the old emery mines near of Peekskill. Many mines were operated for corundum over an area of five by seven miles southeast of Peekskill for use as an abrasive.

Above - Two views of the construction of the Catskill Aqueduct. Note the large dump in the left photo to the side of the tunnel portal that is typical of mineral collecting opportunities during the construction (from Berkey, 1911).
Eight miles to the north-northeast of Anthony's Nose, near the old settlement of Philipstown, now part of Clarence Fahnestock State Park, are several iron mines that worked the Philips vein for iron ore. The vein ran continuously for eight miles and varied in thickness between three and thirty feet. The ore was primarily magnetite and locally was quite pure and compact. The Denny, Sunk, Canada, and Philips mine can still be visited by following the hiking trails in the state park.
---
This locality information is for reference purposes only. You should never attempt to visit any mineral localities listed on this site without written permission of the land owner and/or mineral rights owner and that you follow all safety precautions necessary to protect yourself and the property. Unfortunately, the status of mineral collecting sites change often. Inclusion in this site does not give an individual the right to trespass. ALWAYS ASK PERMISSION prior to entering a collecting location. ALWAYS RESPECT THE PROPERTY OWNER, you are his guest. Never enter a property posted no trespassing. When in doubt, do not enter the property.
---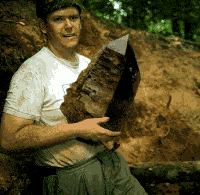 John Betts - Fine Minerals Home Page
Please support our sponsor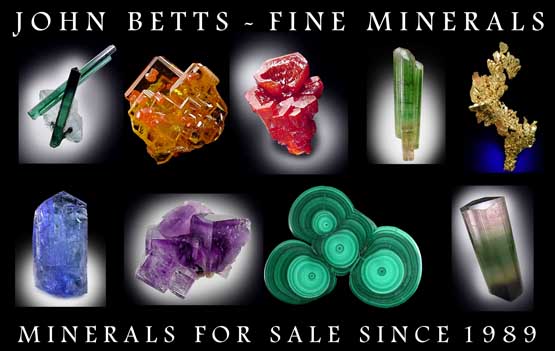 © John H. Betts - All Rights Reserved