---

Amber Location, Sayreville, New Jersey

---
This web page is provided as a resource to mineral collectors.
Contact the property owner before entering the property to obtain written permission to collect minerals.
John Betts does not own this property and he cannot grant permission to enter the site.

Description: The April 1995 issue of Lapidary Journal had a four page article about a new find of amber in New Jersey. The article tells in great detail the story behind the amber and of recent collectors finding 5000 pieces during a three week dig. But, they did not tell you where it is found. Here it is. Amber occurs in areas of black lignite, they are the remnants of four ancient forest floors. The amber is in the lignite and in the associated marcasite/pyrite nodules. Much of the amber fluoresces bluish-white. Most amber occurs as find BB to pea size pieces. Only rarely do they get larger.
Bring: Buckets, garden tools. Take a change of clothes because it is extremely muddy.
Directions: See map below. I prefer to park at Lakeview Drive and cross north over the railroad tracks to the collecting area. It is private property so do not upset the owners.
Sample Minerals from this location: Amber, Amber2, Insect in Amber
DO NOT CALL THE OWNER OF THIS WEB SITE REQUESTING PERMISSION OR MORE INFORMATION.
EVERYHTING KNOWN IS PRESENTED HERE ON THE PAGE.
This locality information is for reference purposes only. You should never attempt to visit any mineral localities listed on this site without written permission of the land owner and/or mineral rights owner and that you follow all safety precautions necessary to protect yourself and the property. Unfortunately, the status of mineral collecting sites change often. Inclusion in this site does not give an individual the right to trespass. ALWAYS ASK PERMISSION prior to entering a collecting location. ALWAYS RESPECT THE PROPERTY OWNER, you are his guest. Never enter a property posted no trespassing. When in doubt, do not enter the property.
© 2002 by John H. Betts - All Rights Reserved

---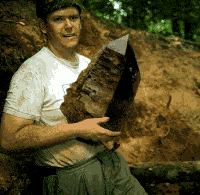 John Betts - Fine Minerals Home Page
Click here for



Minerals For Sale
Order Form - Customer Comments - Galleries - Articles - Purchase Info - Shows - Home - Email me...