---

Bear Mountain Bridge Road Cut, Cortlandt, New York

---
This web page is provided as a resource to mineral collectors.
Contact the property owner before entering the property to obtain written permission to collect minerals.
John Betts does not own this property and he cannot grant permission to enter the site.

Minerals: Epidote, clinochlore, pyrite, stilbite, natrolite, feldspar (this is a cuttable grade that could be considered moonstone)
Description: In 1992 the New York Dept. of Transportation widened a narrow road cut and falling rock hazard on route 6. The blasted material was dumped nearby and is easily accessible to collecting.
Collecting is on very steep slopes, only those people comfortable with collecting under these difficult and possibly dangerous conditions should visit.
Bring: Hand tools, prybars, sledge hammers, insect repellent, food and water.
Directions: From Manhattan, take the George Washington Bridge to the Palisades Parkway north. Stay on the Palisades until the junction with Route 6. Take Route 6 east to the Bear Mountain Bridge and pay $.75 toll. Stay right over bridge and go east on Route 6 for about a half mile to a scenic overlook. Park here. The collecting area is east of the parking area down the hill from the road.
Sample Minerals from this location: Stilbite over Natrolite
DO NOT CALL THE OWNER OF THIS WEB SITE REQUESTING PERMISSION OR MORE INFORMATION.
EVERYHTING KNOWN IS PRESENTED HERE ON THE PAGE.
This locality information is for reference purposes only. You should never attempt to visit any mineral localities listed on this site without written permission of the land owner and/or mineral rights owner and that you follow all safety precautions necessary to protect yourself and the property. Unfortunately, the status of mineral collecting sites change often. Inclusion in this site does not give an individual the right to trespass. ALWAYS ASK PERMISSION prior to entering a collecting location. ALWAYS RESPECT THE PROPERTY OWNER, you are his guest. Never enter a property posted no trespassing. When in doubt, do not enter the property.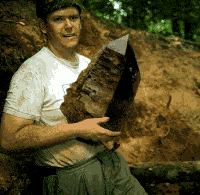 Please support our sponsor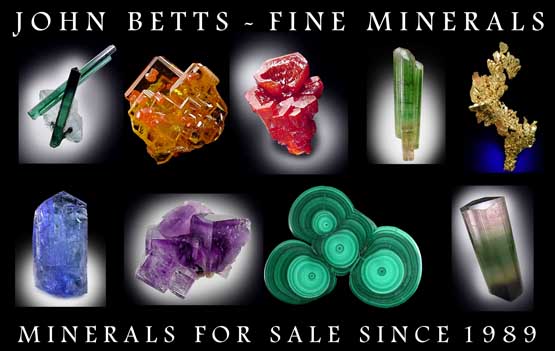 © John H. Betts - All Rights Reserved