---

Case Quarry, Portland, Connecticut

---
This web page is provided as a resource to mineral collectors.
Contact the property owner before entering the property to obtain written permission to collect minerals.
John Betts does not own this property and he cannot grant permission to enter the site.

Description: This is a well known location for blue beryl. You can see crystal casts of beryl crystals to 15" diameter. Unfortunately the trench that all of the big crystals comes from is very narrow. this makes work extremely difficult. Also the beryl is in a pegmatite vein, you must hammer and chisel the beryl out of solid feldspar.
There are dumps at the site where smaller beryls can be found. But the area has been thoroughly scoured over the years, so you must dig down.
Bring: 3 lb. hammer, chisels, gad, prybar, food and water
Directions: From NYC, take the Hutchinson Parkway, turns into the Merritt Parkway and that turns into the Wilbur Cross Parkway also called Route 15 East. North of New Haven about 20 minutes you will come to an exit for 91 North and Rte. 66 East. Exit on 66 East and follow all the way into Middletown. Keep following 66 over the bridge into Portland.
In Portland stay straight off the bridge following the signs for Route 17A that will take you by the river on your left. You will come to a stop sign at the junction with Route 17. Go Straight, continue past first left, turn left at the "T" onto Old Marlborough Road (road names often are renamed in this area, so cross your fingers) Follow Old Marlborough Road around to the north, turn left on Thompson Hill Road. You will cross underneath the power lines. Take the next right onto Cotton Hill Road. Follow until you are under the power lines. Park here.
Follow the path to the left (north and uphill) that is under the power lines. The path goes low and swampy at first and then climbs up. Keep going past the first crest, you will go up a second hill. At that crest you will see the mine dump on your left (lots of broken up quartz/feldspar rocks). This is the first pit. Back in the woods 100 yards two large pits and a trench-like prospect on a small rise that has been most productive during recent collecting.
Note: This location is under management of the Connecticut DEP which requires permits for recreation on the land, including mineral collecting. Though I know of no cases of collectors being hassled for such a permit.
DO NOT CALL THE OWNER OF THIS WEB SITE REQUESTING PERMISSION OR MORE INFORMATION.
EVERYHTING KNOWN IS PRESENTED HERE ON THE PAGE.
This locality information is for reference purposes only. You should never attempt to visit any mineral localities listed on this site without written permission of the land owner and/or mineral rights owner and that you follow all safety precautions necessary to protect yourself and the property. Unfortunately, the status of mineral collecting sites change often. Inclusion in this site does not give an individual the right to trespass. ALWAYS ASK PERMISSION prior to entering a collecting location. ALWAYS RESPECT THE PROPERTY OWNER, you are his guest. Never enter a property posted no trespassing. When in doubt, do not enter the property.
© 2002 by John H. Betts - All Rights Reserved

---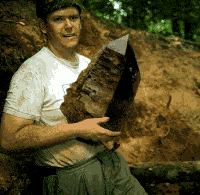 John Betts - Fine Minerals Home Page
Click here for



Minerals For Sale
Order Form - Customer Comments - Galleries - Articles - Purchase Info - Shows - Home - Email me...