---

Gore Mountain Garnet Mines, North River, New York

---
This web page is provided as a resource to mineral collectors.
Contact the property owner before entering the property to obtain written permission to collect minerals.
John Betts does not own this property and he cannot grant permission to enter the site.

Minerals: Large almandine garnet to 12 inches diameter.
Description: Barton Garnet Mine offers a guide tour of their at the on top of Gore Mountain near North River, N.Y. This is the world's largest garnet deposit. Crystals of garnet here are as big as 20" across. Collecting facet grade material is very easy, requiring little more than a hammer to break open the crystals and a watchful eye. Specimen collectors need to take more time to collect crystals intact. The mine is about four hours from New York City.
Mineral clubs must make arrangements in advance for mineral collecting at the mine.
Directions: From NYC. take Rt. 87 to Lake George. At exit 23 take Rt. 9/Rt. 418 West to Rt. 28 North. About 25 miles north on Rt. 28 is North River. Look for Barton Mines Road on your left and take it to the mine office, visitor center.
Fees: $9.00 per person/$1.00 per pound of garnet ( paid to the quarry).
DO NOT CALL THE OWNER OF THIS WEB SITE REQUESTING PERMISSION OR MORE INFORMATION.
EVERYHTING KNOWN IS PRESENTED HERE ON THE PAGE.
This locality information is for reference purposes only. You should never attempt to visit any mineral localities listed on this site without written permission of the land owner and/or mineral rights owner and that you follow all safety precautions necessary to protect yourself and the property. Unfortunately, the status of mineral collecting sites change often. Inclusion in this site does not give an individual the right to trespass. ALWAYS ASK PERMISSION prior to entering a collecting location. ALWAYS RESPECT THE PROPERTY OWNER, you are his guest. Never enter a property posted no trespassing. When in doubt, do not enter the property.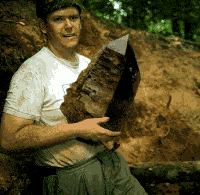 Please support our sponsor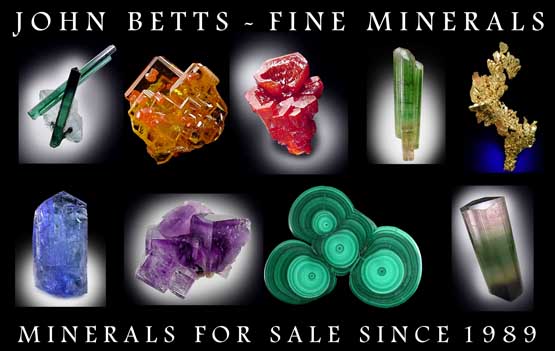 © John H. Betts - All Rights Reserved