---

Timm's Hill Prospect, Haddam, Connecticut

---
This web page is provided as a resource to mineral collectors.
Contact the property owner before entering the property to obtain written permission to collect minerals.
John Betts does not own this property and he cannot grant permission to enter the site.

Minerals: Double terminated schorl crystals in albite matrix, lapidary grade iolite
Description: This is a small collection of prospect pits scattered in the woods and heavily overgrown (yikes! ticks!). The location is a ridge to the east of a boy scout camp It is not easy to find without a guide. There are no restrooms or food service at this location, come prepared.
Bring: Bucket, hand tools, prybars, hammers, insect repellent, rain gear, food and water.
Directions: From NYC take Interstate 95 east to CT 81 north (exit 63?). Follow 81 north past the junctions of CT 80 and then CT 148. Go 2.9 miles past the junction of 148 to a right turn onto Parker Hill Road. Then take a quick (1/10 mile) left onto Beaver Meadow Road. Go approximately 4 miles to a four way intersection at a small bridge, turn left onto Hayden Hill Road. Follow to Timm's Hill Road, turn left. Go Approximately 2/10 mile up hill to where Timm's Hill Road makes a sharp right turn, you will see the scout camp entrance on your left. Park here. Walk in to the scout camp on your left (southwest) following the main road. Turn left before the pond and pass over a small bridge. Continue up hill on the trail to the camp sites. As you reach the first campsites, bear left off the trail, through the camp into the woods (east-southeast). Start bushwhacking down a gully and up again to a low ridge. The areais heavily overgrown. The collecting is along the ridge at several locations. Look for where other people have dug.
Note: It is likely this location is under management of the Connecticut DEP which requires permits for recreation on the land, including mineral collecting. Though I know of no cases of collectors being hassled for such a permit.
DO NOT CALL THE OWNER OF THIS WEB SITE REQUESTING PERMISSION OR MORE INFORMATION.
EVERYHTING KNOWN IS PRESENTED HERE ON THE PAGE.
This locality information is for reference purposes only. You should never attempt to visit any mineral localities listed on this site without written permission of the land owner and/or mineral rights owner and that you follow all safety precautions necessary to protect yourself and the property. Unfortunately, the status of mineral collecting sites change often. Inclusion in this site does not give an individual the right to trespass. ALWAYS ASK PERMISSION prior to entering a collecting location. ALWAYS RESPECT THE PROPERTY OWNER, you are his guest. Never enter a property posted no trespassing. When in doubt, do not enter the property.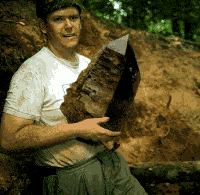 Please support our sponsor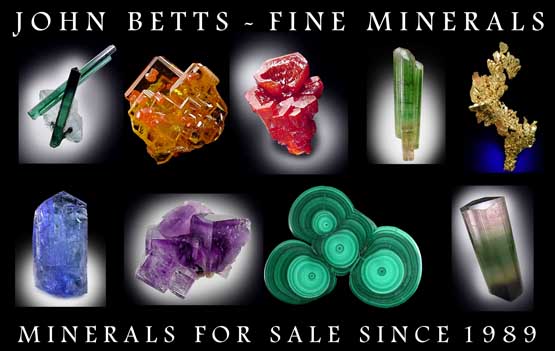 © John H. Betts - All Rights Reserved