---

Topaz and Emerald Site, Trumbull, Connecticut

---
This web page is provided as a resource to mineral collectors.
Contact the property owner before entering the property to obtain written permission to collect minerals.
John Betts does not own this property and he cannot grant permission to enter the site.

Status: CLOSED. A Home Depot was built on the site
Minerals: Topaz, fluorite, calcite fluorescent scheelite, beryl, pyrite, almandine garnet.
Description: A new construction site in Trumbull, Ct. is producing a number of great mineral specimens. Among the finds were double terminated topaz crystals, purple and green fluorite octahedral crystals, gemmy red (almandine?) garnets in calcite, pyrite crystals, and most importantly the first(?) documented occurrence of emerald in calcite pods in schist.
Nearby is Old Mine Park where there are several collecting locations. Inquire with the park personnel for more information.
Directions: The site is being cleared and leveled for the construction of an office building and is just west of the old tungsten mine. You can reach it by taking the Merritt Parkway to Rt. 25 North to Rt. 111 North in Trumbull. After turning right on Rt. 111 go two lights and you will see the site on your right. Turn in and drive up to park.
(The construction site may be closed to digging. Collect in the same deposit at Old Mine Park.)
Sample Minerals from this location: Garnet, Garnet2
This locality information is for reference purposes only. You should never attempt to visit any mineral localities listed on this site without written permission of the land owner and/or mineral rights owner and that you follow all safety precautions necessary to protect yourself and the property. Unfortunately, the status of mineral collecting sites change often. Inclusion in this site does not give an individual the right to trespass. ALWAYS ASK PERMISSION prior to entering a collecting location. ALWAYS RESPECT THE PROPERTY OWNER, you are his guest. Never enter a property posted no trespassing. When in doubt, do not enter the property.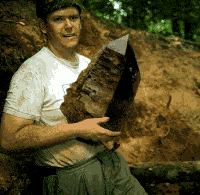 Please support our sponsor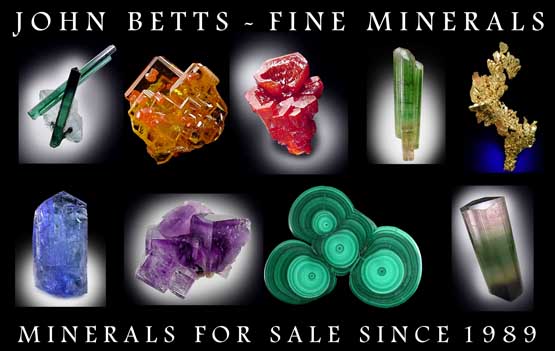 © John H. Betts - All Rights Reserved